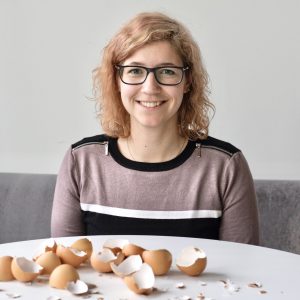 Martina Zupan is a Product Design graduate from Edinburgh Napier University interested in Technology, Sustainability and Innovation. She was not afraid to go about trying to solve one of the many problems of waste in the food and drinks industry and has developed a new compostable material made from eggshells.
With experience in design, marketing, administration and customer service, she has developed a great skillset, which will help her commercialise her idea and expand the product.
She is currently looking to secure funding to help her grow her business and expand her team, so make sure you let her know if you are a like-minded and hardworking individual, interested in joining her startup
Marketing and Communications
Lara Winnington-Ingram is a Marketing Management student at Edinburgh Napier University and she works on all internal marketing initiatives, as of September 2018.
You can find out more about Lara in our September blog post.
We would be delighted to hear from you if:
You love what we do,
You are passionate about making a positive environmental impact,
You could bring valuable skills (such as materials engineering, supply chain management, operations, finance, etc.)
You would like to hear more about our work.
Just drop us a line through our contact form and we'll get back to you shortly.
Superstars that contributed at the early stage of the business